We spoke to friend of Perriam, Dunedin artist Meg Gallagher about her art practice, her #inspHERation and her journey home to a slower pace of life.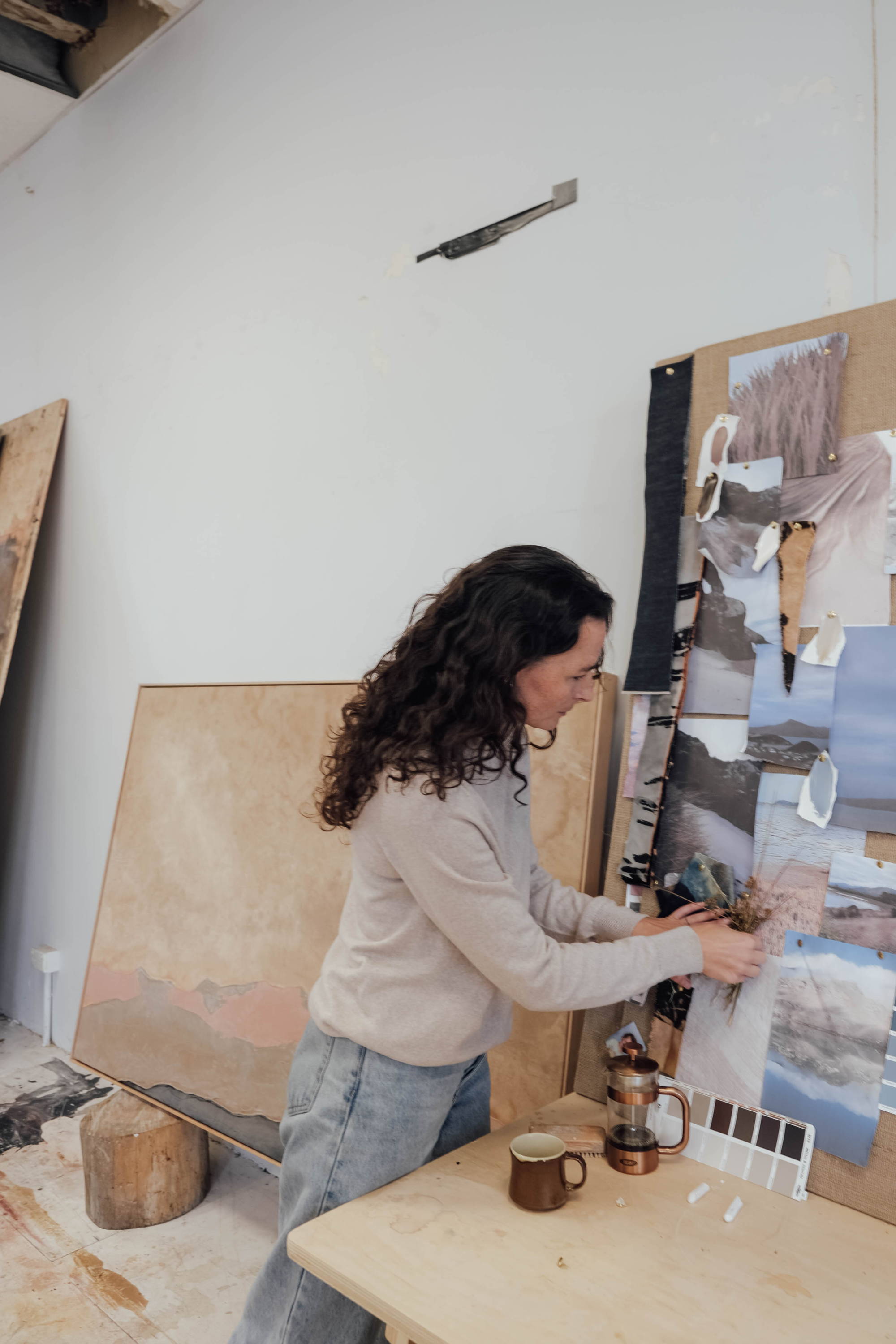 Tell us about your background and how your journey as an artist began.
My artistic background was cemented in the word of fashion, designing for brands like Camilla and Marc, Insight and Ksubi. I became obsessed with denim when immersed in the creative mecca that the Ksubi design team provided. Working with denim reminded me how much I loved working with textiles and colour. After years of the intensive fashion loop I started to feel the itch to create slower work with my hands. So I translated everything I knew about denim, textiles and colour into creating art. I started selling pieces privately and then demand swiftly grew into creating commission and showing in galleries. I know base my art studio in New Zealand as I feel the most inspired here and travel for shows when needed. Growing up in New Zealand meant my love for nature was inherent so connecting back living near these landscapes felt right to my soul.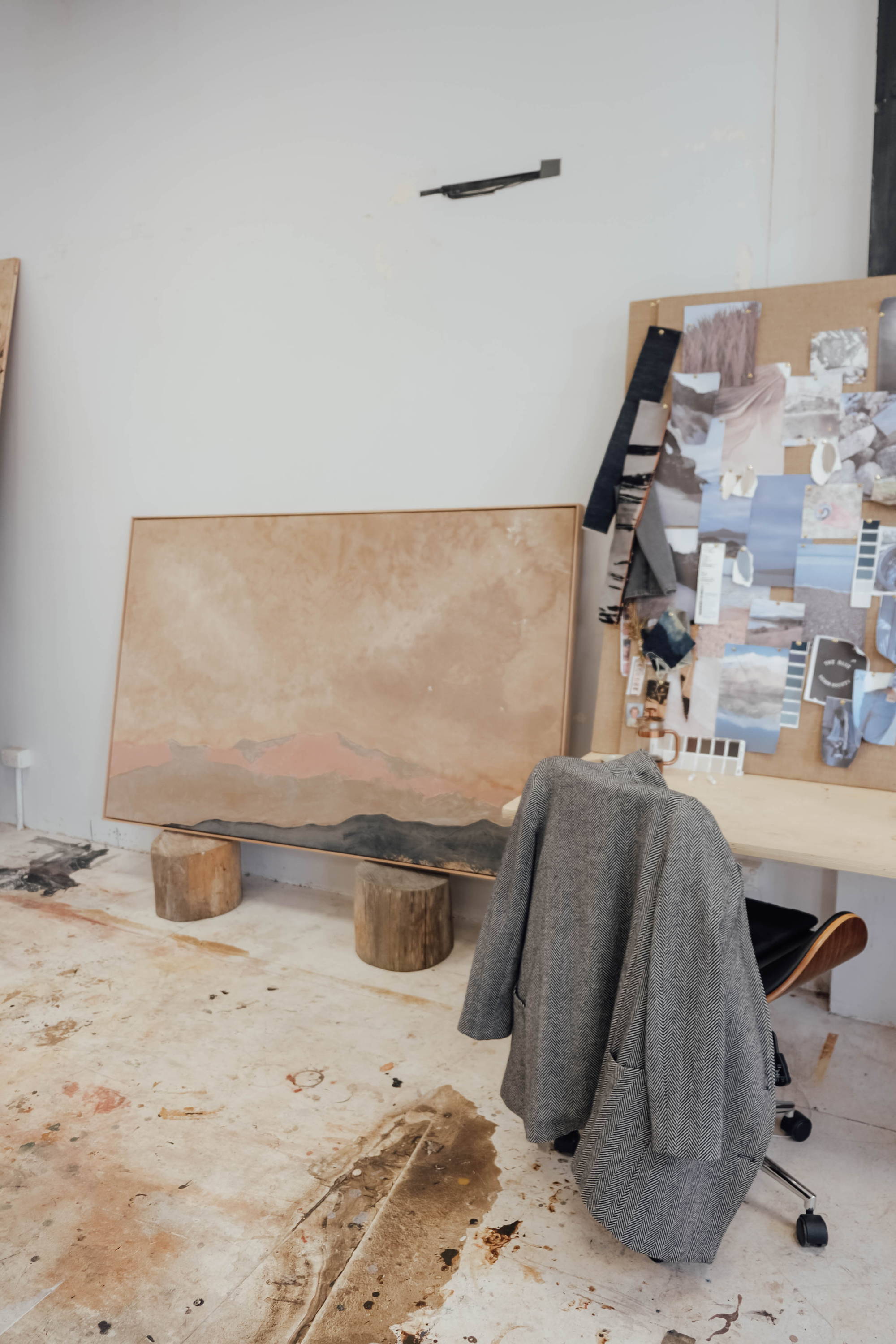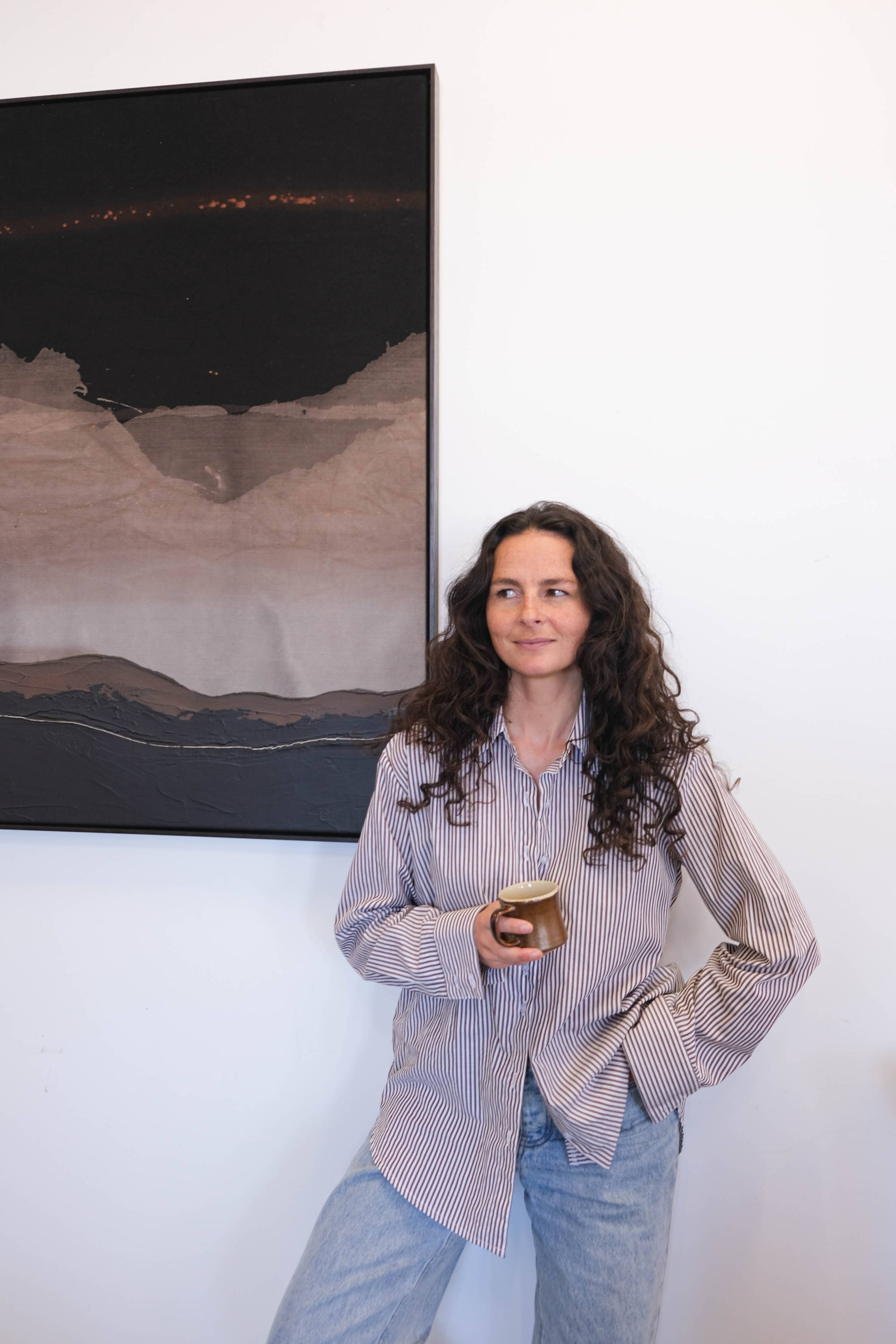 What is your process of creating?
So I start with the clean blank off cuts of denim. After visiting many denim factories in my time, I noticed that off cuts of high quality denim would just be thrown away as they were considered too small for their high unit orders. To me it was like looking at a pile of gold so I asked if they could take some with me. I started to use it instead of a traditional canvas and because I knew how to manipulate it ( like when making a pair of jeans )
I first get quite experimental with dying, bleaching, washing it to create organic textures. Then while many wash cycles are happening and dyes are soaking I'll pull together a mood board that mirrors my current frame of mind or surroundings. Then I'll stretch and staple these pieces of denim onto huge plywood panels and start to slather on with a palette knife thick layers of acrylic. Then I'll continue to soak the paintings in washed out dyes or wipe on powered pigments with a cotton cloth. I'm always looking back and forth from my paintings to my mood board to help guide my next steps. It's a continuous loop of controlling the chaos, my pieces can take up to 3 weeks to 3 months in the process.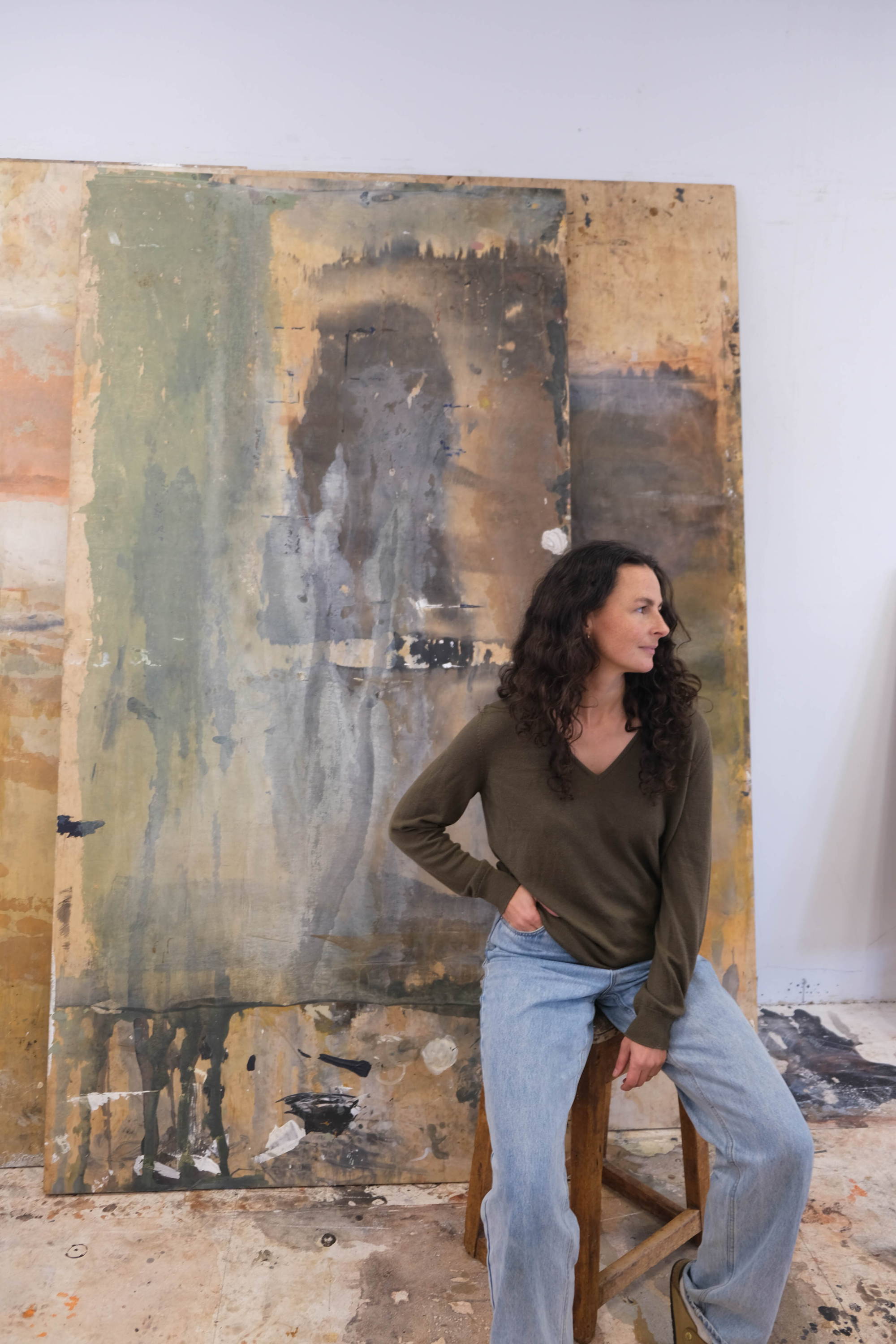 Who or where do you get your #inspHERation from?
My mum springs to mind first - obvs. She raised four kids on a farm ( lifestyle farm ; ) all by herself. She has this wonderful zest for life even when it's clearly evident she's going through hard times. She always encouraged me to think outside of the box, make plans and to aim BIG, instilling the message of " what's the worst that can happen? " . No matter what I'm going through in life, I know I can drive down to her farm, walk around the paddocks with her and she will listen and guide me through the next steps. She always downplays her creative talents but she taught me to sew which got me hooked on fashion design, so I will forever be thankful to her for that.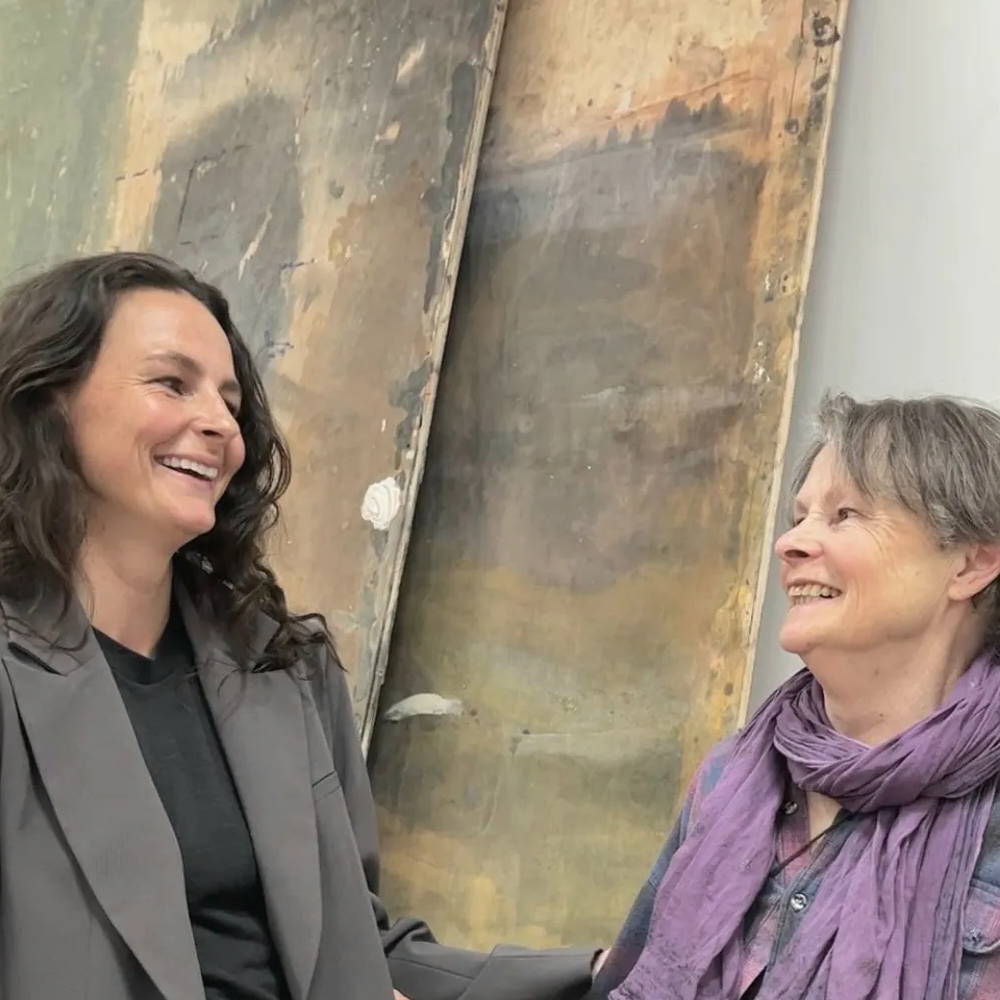 Your journey has been about slowing down, how do you find the time now to continue to pause and take breath?
I make a point of never bringing my laptop home with me. I need home to be my time to tune out, I'll cook, garden, potter around the house or just hang with my son watching surf videos. Even though I'll always have my brain humming away with thoughts and ideas for my works, it's really important for me to try and zone out because that's when the best ideas are sparked anyway.
Find Meg's work:
"Recent Works" is currently showing at Olga Gallery Dunedin until the 25th of April.
@meggallaghercreative